STEP INTO THE SPOTLIGHT!
Get this FREE REPORT NOW to GET UNSTUCK!
Write juicy characters from your own life experiences.
Learn which pivotal moments have meaning.
How to get instant feedback on your writing for FREE!
GET YOUR FREE COPY BY CLICKING ON THE GRAPHIC!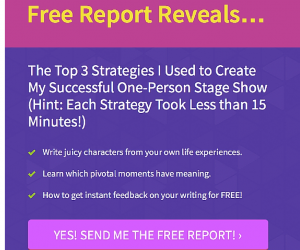 ________________________________________________
BOOKS & PROGRAMS to CHANGE YOUR LIFE!
The 5 Top Reasons to Never Forgive and Why You Must
In this ebook  you will receive 5 of my most potent techniques for relieving the pain you currently have if you are  holding onto anger, revenge or regret of the past. Find out what it feel like to release this inner turmoil by doing the exercise in this short book.  That's what will happen when you read and apply these simple lessons. Only $5.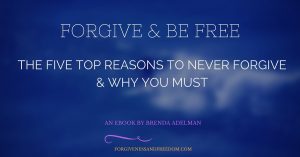 My Father Killed My Mother and Married My Aunt: Forgiving the Unforgivable (Memoir/Forgiveness Guide)
My Father Killed My Mother and Married My Aunt: Forgiving the Unforgivable is a blend of memoir style writing with lots of powerful personal stories and a workbook to help its readers — YOU — experience direct results —